Production Capabilities
Our assorted equipment allows us to develop a customized manufacturing process for a wide array of formed metal parts and wireforms.  In addition to our production departments listed here, we have established relationships with reliable local partners for additional services such as heat treating, plating, polishing, and painting.   
We are always available to discuss your exact requirements. Get in touch with us today.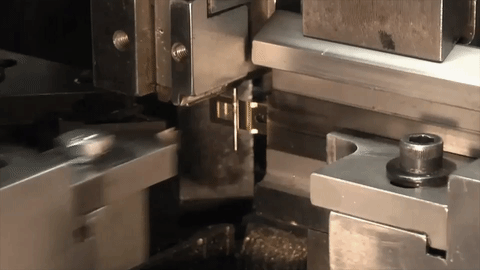 Fourslide
Fourslide machines are versatile, reliable, and economical automatic slide-forming machines ideally suited for production runs of quantities greater than 10,000 parts.  Fourslides are capable of making many formed metal parts that could also be made in a complex progressive die, but the unique design of the fourslide process allows us to offer significantly lower tooling cost and reduced scrap per part.
We currently operate 16 machines in our Fourslide department. Our equipment includes various fourslide and multislide machine models #00, #1, #2F, and #28. Each model has different capabilities of size, tonnage, and speed, so we can choose the right equipment for each part.
Fourslide Production Capabilities
Flat Stock Thickness: 0.005" – 0.063"
Flat Stock Width: up to 1.5"
Wire Diameter: 0.026" – 0.125"
Length: up to 6"
Kick Press
Kick presses are manually actuated machines, capable of adapting to a broad range of relatively simple tooling.  Their simplicity allows for quick setup and economical tooling for punching, bending, and forming operations requiring up to about 1 ton of force.  Kick press operations are often used for prototyping, as well as secondary assembly or additional forming of parts from our other production departments.
Our kick press department is best suited for prototyping, short pre-production runs, or production runs of fewer than 10,000 parts.
Kick Press Production Capabilities
Flat Stock Thickness: 0.005" – 0.063"
Flat Stock Width: up to 3"
Wire Diameter: 0.026" – 0.125"
Length: up to 10"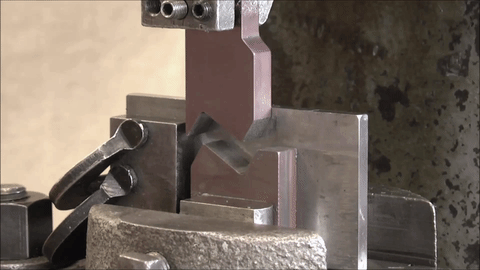 CNC Wire forming
The Wafios machines in our CNC wireforming department enable us to manufacture complex wireforms with minimal initial tooling expense.  After the base program is established for a part, most minor adjustments can be made in less than one minute, making production runs in this department extremely efficient.
We have also expanded the capacity of our machines by modifying or adding custom tooling modules.  We integrate automation components including conveyor systems, laser inspection sensors, and remote monitoring equipment to ensure continuous production of high quality parts.
CNC Wire forming Production Capabilities
Wire Diameter: 0.026" – 0.187"
Length: up to 24"
Bihler
Our Bihler GRM-80E can be adapted to make many parts that would be difficult or impossible to produce on other equipment. Bihler tooling can include linear progressive forming, radial progressive forming, or inline forming and assembly of two or more parts.
The Bihler system provides a flexible production platform for a wide variety of precision parts and assemblies. Its modular drive system and computer controlled machine interface allow easy integration with sensors, solenoids, servos, feeders, and other electronic or mechanical automation components. The Bihler machine's flexibility helps us achieve faster production rates and better quality parts while minimizing operator intervention.
Bihler Production Capabilities
Flat Stock Thickness: 0.005" – 0.070"
Flat Stock Width: up to 3"
Length: up to 10"